I haven't had a moment to spare to take an outfit post. We're having a family emergency and I've been tied up. So I thought I'd share with you a new bikini I purchased for myself the other day. I've been on the hunt for the perfect retro bikini, the problem is they are all $75+. Not really my price range. This one isn't exactly perfect, but at $35 (gotta love eBay!), it's a great deal. It's also super cute. I haven't received it yet, so here are some stock photos: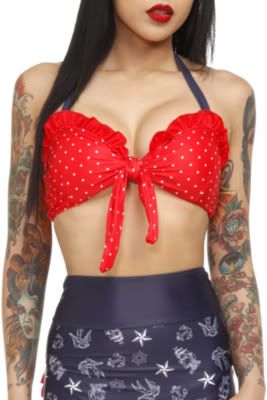 I love nautical, so I was immediately drawn to the anchor detailing. Plus, I've mentioned before that red, white, and blue are my favorite outfit colors of all time. I find my ensembles are accidentally patriotic a lot of the time. Plus, on top of everything I'm pear shaped, high waist/nipped waist look way better on me. Super flattering!
I can't wait for summer.