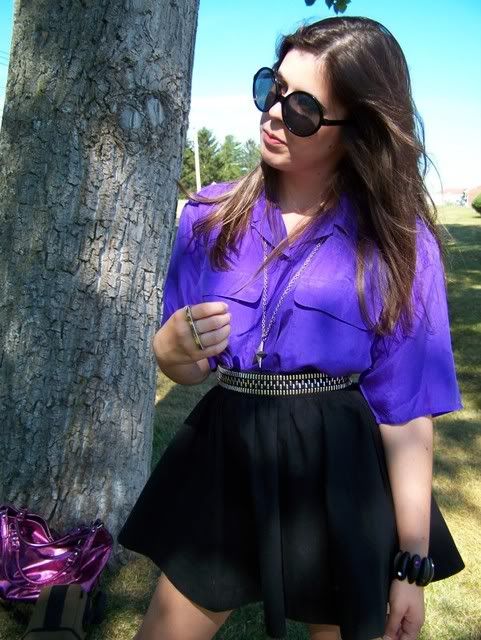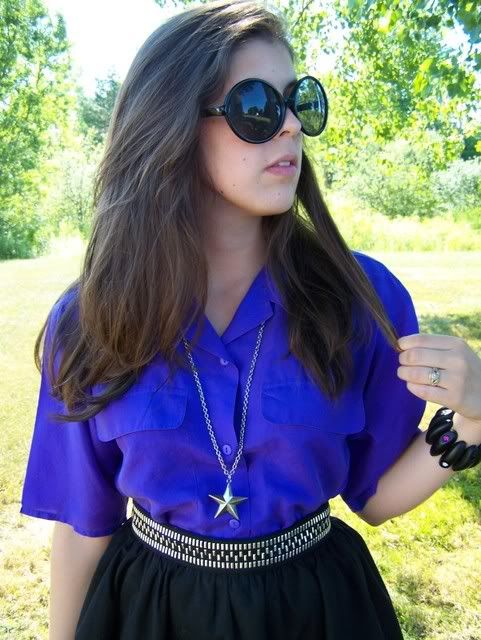 Thrifted silk blouse, H&M cotton skirt, Restricted Footwear wedges, Forever 21 connector ring, and Icing sunglasses.
After a busy Saturday afternoon with my boy, we decided to rest and cool off underneath the shade of a big poplar tree. Lounging and talking turned into an impromptu photo shoot and consequent goofiness. Mostly our conversations were about the pizza place we had eaten at earlier. They thought it was weird that the two of us wanted to order a whole pizza and not slices, and were very apprehensive of us with our strange eating habits.
Anyway, my camera really didn't pick up how shockingly vibrant my purple shirt is. When I found it lost in the racks at Goodwill my mother stated: "Now that's purple!" Or something to that effect. I love vibrant 80's colors and I love silk button ups, so this shirt = perfect. Button ups are the perfect shirt to seamlessly fit into any wardrobe. They can be worn with pretty much anything and everything.
One last thing to say before I bid you adieu for now, the bling on my skirt takes it from pretty to AWESOME.
Take care and enjoy the summer weather!
xoxo