I don't share anything other than what I wear on this blog. So I'm showing you some of the best beauty products I've ever used. Believe me, I've tried so many failed products and I've finally found the best for a lazy girl's arsenal.
I love experimenting with make-up, but I don't like spending a lot of time on it. That goes with everything. I don't spend a lot of time getting dressed or doing my hair and makeup. So when it comes to my everyday products, I need them to be easy to use and long lasting.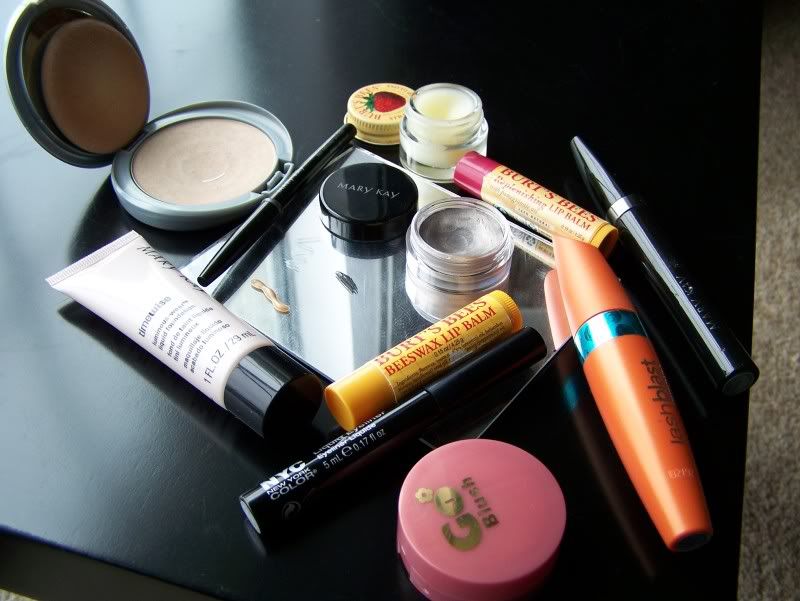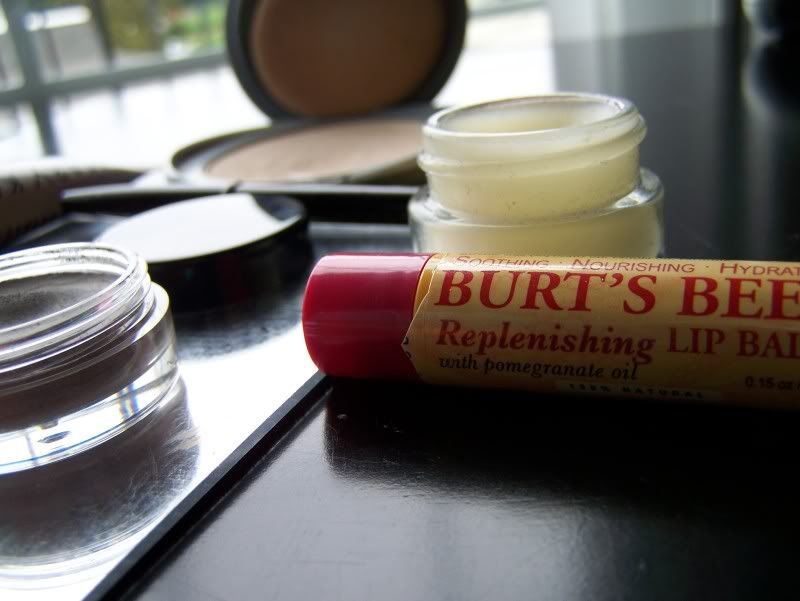 (clockwise from bottom left)
Go* blush
Go* is a UK cosmetics company that I use to buy brand new products from on eBay. I can't find them anywhere anymore! :( Their quality is comparable to MAC but it's much more affordable. The blush is long lasting with a hint of sparkle. (Do I really need sparkle? No, probably not.)
NYC liquid eyeliner in black
NYC has always been my favorite cheap drugstore brand. At only $1 this liquid liner is amazing. It never smudges or wears off during the day. It also helps me look like a rockin' 60's babe. Cat eyes, rawr.
Burt's Bee's lip balm (also pictured Burt's Bees strawberry lip gloss and lip balm in pomegranate)
Unless I'm experimenting with some crazy lipstick, the only lip products I use are Burt's Bees. Keeps my lips fresh! Before I discovered the products my lips were so cracked, no one would come near me with a 10 foot pole. Thank you Burt's Bees for showing me how to love again! (It's joke people...sort of.)
Mary Kay luminous-wear liquid foundation
After trying THOUSANDS of foundations, this one is hands down the best. I don't think I could ever switch. It covers so evenly and doesn't rub off on my sunglasses! It also helps me not look like a scary sleep deprived zombie.
Covergirl TruBlend pressed powder
I sweep this gently over my liquid foundation, it helps seal the deal!
Mary Kay eyeliner in steely
My everyday liner, the metal color is a great alternative to boring black liner. Such a long lasting liner. I also love that it's called steely, that's humorous to me. Am I the only one? (Yeah, probably.)
Mary Kay cream eye color in glacier gray
This is the only cream eye color I've tried that doesn't sit in your creases. When it says it dries as a powder, it's not a lie!
Covergirl lash blast mascara and Mary Kay ultimate mascara
Once again, I've tried thousands of mascaras. Mary Kay ultimate is the best, it makes my eyelashes look so long. I only use Covergirl lash blast when I know I'll be doing water-filled activities. Hence going to water parks, or crying. Two activities that I often participate in (not really). Best waterproof mascara ever.
There you have it! Best basics ever.
I am now obligated to go decorate for Halloween. I'm getting my costume today, I'm excited. What are you being for Halloween?