Hello everyone! Today I wasn't feeling a picturey mood so I decided to compile some images of things I'm dying to have in my closet.
The first are the electric blue pumps from Aldo. I've wanted them since I first saw them sitting in the window display back in August. Too bad their clearance price is only minus ten from the original.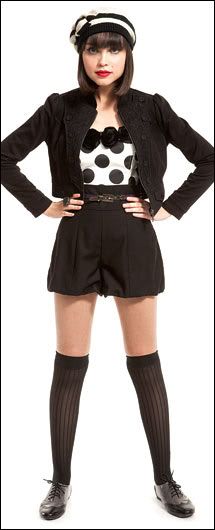 I love this polka dot top. It's the second time Forever 21 has offered it in their twist collections. I missed it again! It's sold out pretty much everywhere. It would be perfect with my skirts! Although I do love the look she has going on here.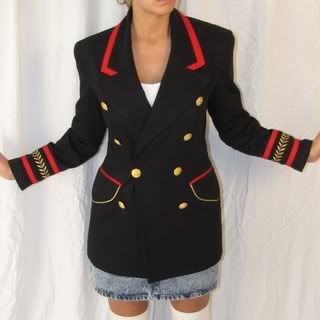 And lastly, I really want to get this vintage blazer. I'm currently stalking it like a hawk on ebay. I love the detailing and the whole sailor vibe it's got. I love the sailor chic look. I wouldn't wear it with what the model is wearing though....yikes.
Tomorrow I'm going shopping with my mommy as part of my Christmas present. It's a tradition we do every year. We scope out the clearance sales. I'll make sure to put up some pics from our shopping excursions!
Have a lovely night!
xoxo- Morgan